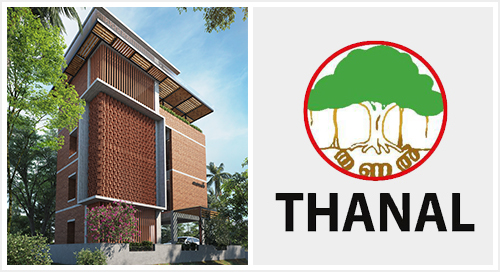 THANAL
A CENTRE FOR BEFRIENDING PERSONS IN DISTRESS AND IN DANGER OF SUICIDE
Reg.No.16 / IV / 2002
Near Malabar Christian College, Kozhikode
PHONE: (0495) 2725555, 3279307, 2546111

"Thanal", is a centre for befriending persons in distress and in danger of suicide was instituted by Indian Medical Association, Kozhikode Branch in the year 2001. Thanal is functioning at Kozhikode city trained to identify persons with suicidal tendencies and be of help to them.


To ensure that volunteers are available at any hour of the day or night to offer emotional support to those passing through personal crisis and in imminent danger of taking their own lives.


To conduct training programs for social workers, teachers, religious personnel, N.S.S. volunteers, health workers, etc. to intervene in the lives of suicide-prone persons.


To undertake research projects on suicide in Kerala and to develop models for effective intervention strategies.


To make available expertise to start suicide prevention programs in other parts of the state.
Thanal Befriending Activites
Thanal Befriending Centre remains open every day of the year including Sundays and holidays from 10.00 A.M. to 6.00 P.M. We hope to be able to provide round the clock service as we progress.
Callers
Any person going through a period of personal crisis and wants to share his feelings to someone in strict confidence is welcome to utilize services of the befriending centre. Persons going through crisis due to a variety of reasons such as death, terminal illness, loneliness, marital discord, financial problems, employment problems, depression, and educational backwardness, and hence harboring suicidal thoughts and wanting to unburden him/her to an understanding person may call to or visit Thanal. He/she will find someone waiting for him. Our services are free. He/she may walk into Thanal without prior appointment and find in the waiting volunteer a trustworthy friend who will listen to him/her without being judgmental. He/she can contact Thanal by telephone as well (Number-0495-2725555). Alternately, he/she can communicate by letters. He/she is sure to receive a prompt reply.
Confidentiality
Callers to Thanal are assured of complete confidentiality about what they share with the befriender. The volunteers will not divulge the problem to any one outside the centre, or even to their spouse or children. To the caller, the befriender will be identified by his first name. Their personal details will not be disclosed. The caller in turn is not required to reveal his/her personal details.

Volunteers
A team consisting of senior members of Befrienders India has carefully selected the volunteers. They are trained adequately to undertake this mission. It should be mentioned here that listening to another person particularly to one in distress is by no means an easy task. The volunteers from Maithri (Kochi & Thrissur) and Sneha (Madras) have provided the expert training for the volunteers. Persons committed to the cause of a healthy society, who have the capacity to listen without being judgmental and having the time to spare four hours in a week can become the volunteers of Thanal. Persons of either sex, of any age, of any cast can come forward. There will be selection for the volunteers once in every six months.

Befrienders India
Thanal functions under the umbrella of Befrienders India, the national unit of Befrienders International. Befrienders International is the federation of national bodies of the befriending centers operating in many countries worldwide, which provides only technical support in establishing such centers. Rev.Chad Varah in the city of London started this movement in 1953. Befrienders India is a non-religious and non-political organization, which was started in 1992. It aims to generate awareness of suicide, help to open new centres in different cities, raise funds, and collate and distribute information on suicide in India and abroad. Presently there are 13 centers in New Delhi, Kolkata, Mumbai ,NaviMumbai, Ahamedabad, Chennai, Secundarabad, Cochin, Pondichery, Kozhikode, Thrissur, North Paravoor and Irinjalakuda under this organization.


Mobile Public Awareness Programme Unit (Punarjani)
In collaboration with Thanal Suicide Prevention Centre, a venture of Kozhikode IMA, we have started a mobile public awareness Programme unit named Punarjani. Flag of ceremony was done by our MLA Sri.Pradeep Kumar. We have procured a vehicle, LCD projector and public address system unit. Video modules of different mental health topics are available. We conduct free programmes in schools, colleges, clubs, residential associations and organizations.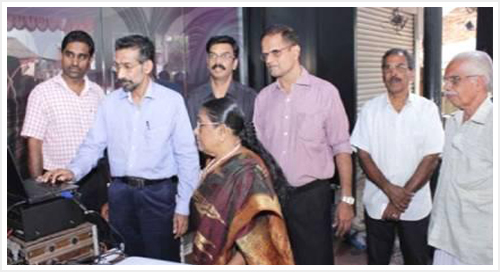 Programmes conducted by thanal
Click here to Download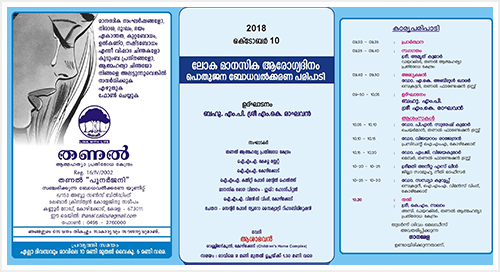 Please be present in the October 10th programme at Asha Bhavan, Vellimadukunnu positively and make the World Mental Health Day by Thanal a grand success.
Click here to View Snap shots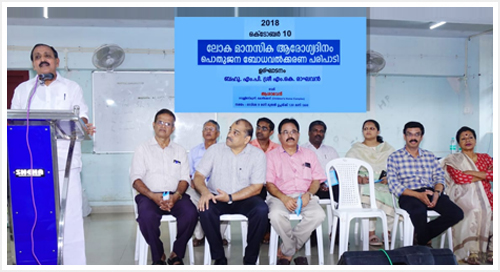 World Mental Health Day observation at Ashabhavan, Vellimadukunnu in collaboration with Social Justice Department Public awareness program, medical camp, distribution of clothes, books, orchestra and feast
Click here to View Snap shots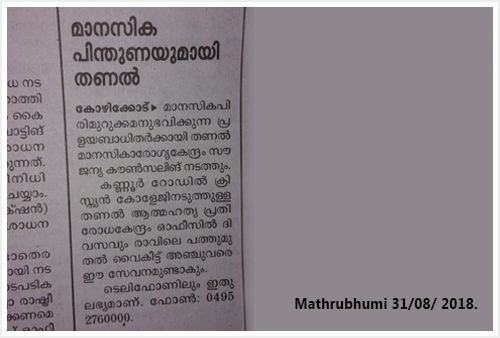 World Suicide Prevention Day awareness program conducted at IMA hall Kozhikode by Thanal suicide prevention centre, IMA committee for Mental Health, IMA Women's wing-Kozhikode and IMA Kozhikode. Inauguration by Sri.Babu Parassery, Kozhikode Jilla Panchayath President

Cordially invites you all with family for a drama - Karuna by Kollam Kalidasa Kalakendra
at Tagore Centenary Hall on 24th November at 6pm Organised by Thanal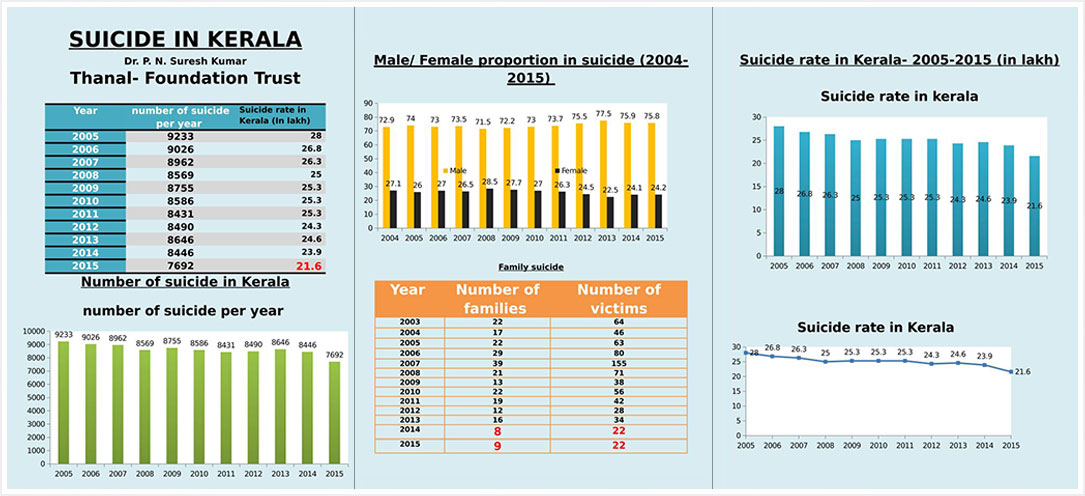 Declining trend of suicide in Kerala congrats to all suicide prevention centers for their concerted effort